Fresh White Onion Supplier in Gujarat
MG International Export is a leading supplier and exporter of high-quality fresh onions in Gujarat, India. We specialize in supplying fresh white onions that are grown and harvested in our own farms, ensuring the highest level of quality and freshness. As one of the top fresh white onion exporters from Gujarat, we take pride in our efficient supply chain management system that ensures timely delivery of our products to our clients across the globe. Our white onions are carefully handpicked, graded, and packed to ensure that they retain their freshness, taste, and nutritional value. Being one of the top white onion exporters in Gujarat, we understand the importance of meeting the specific needs of our clients. We offer a wide range of sizes, ranging from small to large, to meet the requirements of different markets. Our fresh white onions are available in various packaging options, including mesh bags, jute bags, and cartons, to suit the requirements of our clients. In addition to exporting fresh white onions, we are also leading fresh white onion suppliers in Gujarat.
White Onion Manufacturers in Gujarat
We source our onions from reliable and trusted farmers, ensuring that they are of the highest quality. Our onions are grown using organic and sustainable farming practices, making them safe for consumption and good for the environment. As one of the top white onion manufacturers in Gujarat, we are committed to providing our clients with the highest quality products at competitive prices. Our state-of-the-art processing facilities are equipped with the latest machinery and technology, ensuring that our products meet international standards and specifications. At MG International Export, we strive to provide our clients with a hassle-free and convenient experience. Whether you are looking for fresh white onion exporters from Gujarat or fresh white onion supplier in Gujarat, we are here to serve you.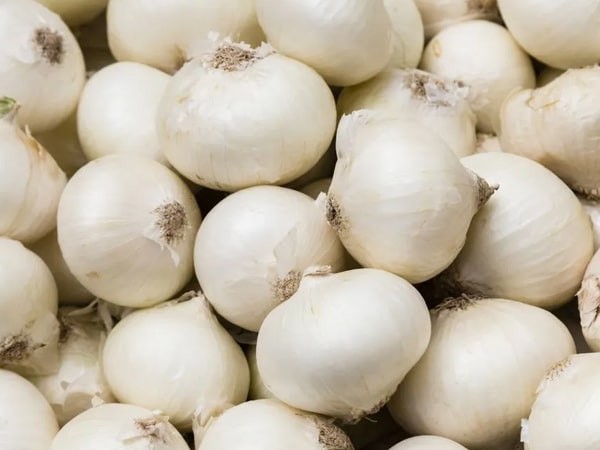 | | |
| --- | --- |
| Quality | Intact, Sound, Clean, Un-sprouted, Free from pest, Free from swelling |
| Physical Defects (Shape, Color, Cracks etc) | Less than 2% |
| Size | As per buyer demand 25MM to 65 MM available |
| Quality Tolerance | 5% by number/weight of onions |
| Size Tolerance | 5% by number/weight of onions |
| Uniformity | Onions of same origin, variety, quality and size |
| Packaging | As Per Buyer Requirement |
Tasty & Quality Approved Agricultural Products
are Available Here!
We supply and export great-quality Bold Peanuts, Java Peanuts, TJ Peanuts, Fresh Red Onion, White Garlic, Yellow Maize, Dry Red Chill and In Shell Peanuts with 100% customer satisfaction all over the world.